Cogedar Line -
MS Aurelia -
Genoa
After four and a half years of living in Australia dad thought it was time to return to his beloved Holland.
He just could not get used to Australia and was very homesick for his family en the Dutch pubs. Plus he had to travel further and further away from home to get work. Only coming home for the weekends, he started to loose the family bond.
Dad had a huge problem with the English language, he just could not learn it. Adjusting to a new country is difficult at best, but he exacerbated it by only employing Dutch people in his house painting firm, which is no way to learn a new language.
Our house in St Marys was sold and we rented temporary accommodation in Kingswood until it was time to board the Auralia for our voyage back to Holland.
A couple of nights at my Auntie Toos place and then it was off to Circular Quay. All our furniture had already been packed into a large crate.
This time we were not migrants but paying passengers.
Our parents had booked passage through Cogedar Lines in Sydney, we would travel with the MS Auralia through the Suez Canal back to Rotterdam.
Built in 1939 as a freighter between Hamburg and Genoa, Cogedar Lines bought the ship in 1954 and it was refitted as a passenger liner.
We boarded in August 1963 for a five week journey, which would take us to Melbourne, Adelaide, Fremantle, Aden, Suez, Port Said, Naples and Southampton before arriving in Rotterdam.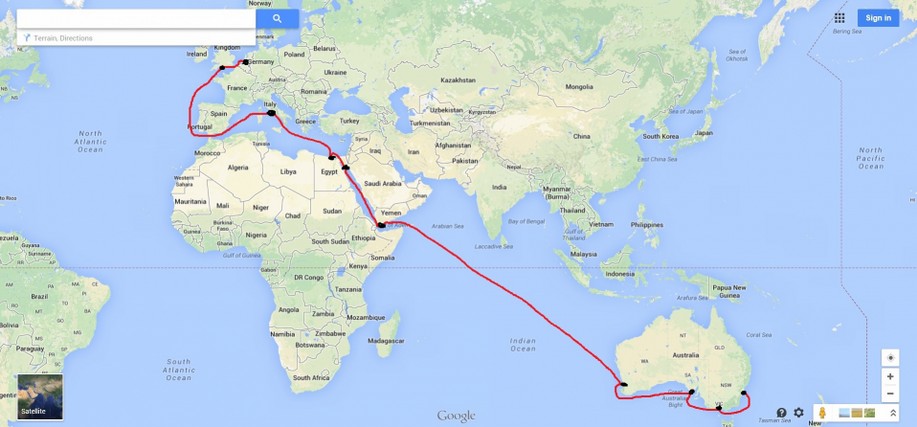 We slept in a four-berth cabin with our mother and dad slept with four other men in another four-berth cabin.
The first thing we heard as we came on board was The Shadows doing a great rendition of their hit song "Telstar", playing loud on the jukebox located on the Lido Deck. I believe everyone that made this trip will always remember that particular record. It was played over and over again. Even my smaller brother Dick, who was only nine at the time, still talks about it.
I was almost thirteen when we left and was actually a bit too old to play with the younger children and too young to hang out with the teenage crowd. It would have became somewhat of a lonely trip if it hadn't been for the fantastic crew, who turned it into a very adventurous and memorable trip.
Our first port of call was Melbourne; followed by Adelaide and eventually Fremantle before we sailed onto the Indian Ocean saying farewell to Australia. The only thing I can remember of these places was that we were allowed to disembark at Adelaide and Fremantle. We took a train from the docks and visited Adelaide city.
We had a long journey ahead of us, especially the crossing of the Indian Ocean. Each day got warmer and warmer and the ocean was that calm that you could have easily mistaken it for a large lake, not a ripple of a wave to be seen. It was a most magnificent sight. The ship carved its way through the ocean like a knife through butter.
In the meantime my parents had met up with another Dutch couple and my two younger brothers often played with their children.
Life on board was a lot more luxurious then when we had moved to Australia in 1959 on the MS Sibajak.
On this part of the journey many parents started to complain about the freshness of the fruit that was given to the children onboard. Half of it was spoiled and had very little vitamins left in it. There was almost a mutiny on board by many concerned parents and the captain promised to rectify this at the first available stop.
During the passing of the equator we all had to prove to Neptune that we were worthy to enter his Kingdom. This was rewarded with a certificate from Neptune which of course was written in Italian.
It seemed to take forever before we reached Aden so I kept myself busy in the ship's library. There wasn't much to read and I was lucky to find a few English adventure books, which I happily got stuck into.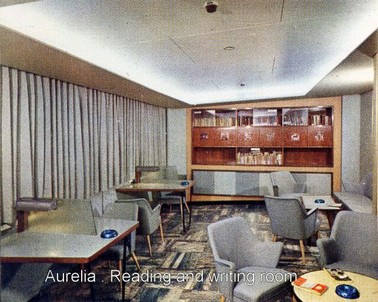 The swimming pool was rather small but a great place to cool off in the tropical heat. It also had a slide and lots of ball games were played in the pool.
After having acquainted some of the crew on board I was allowed to enter the engine room. Well I must say that it was a sight to behold. All those large machines and motors spinning around and the noise was deafening.
One of the crew members took me up to the bridge to see how the ship was controlled. The captain was there as well and I was able to freely walk around. There were that many buttons and knobs and navigation equipment that I wondered what they all did and how anyone could understand it all.
For the rest there wasn't much happening.
Myself with one of the crew members I befriended.
You could often find me in the cinema, which was converted every Sunday to a small chapel. It was an Italian ship with many Catholics on board so mass was held religiously every Sunday.
The Lido deck and the bar on it were also one of my favourite haunts to pass some of the time.
At last we arrived in Aden. The harbour was too small to accommodate a ship of our size so we were all ferried to shore on small boats.
Yemen had only gained its independence from British rule as few years earlier and we saw so much poverty it was heartbreaking. The city existed mainly of jewellery stores and the gold was of a very low carat.
The streets were full of children begging for money. Some had lost an arm; others had lost a leg. The British got the blame for this, however, later we heard it were the parents who had done this so the children could beg better. The truth is probably somewhere in the middle.
From Aden we went on to Suez where we were visited upon by a flotilla
of small boats plying there wares; mainly souvenirs for the tourists.
The trade was handled through small baskets and ropes. Lots of haggling over the prices and then the money went down and the goods came up. My parents purchased a small sphinx statue made of brass and mounted on a piece of onyx. It adorned our mantlepiece for many years as a testament we had been to Egypt.
Passengers before us were allowed to disembark here to visit the pyramids joining the ship back in Port Said. Through the instability of the surrounding area at the time it was not encouraged. Some still took the challenge, mainly younger people.
I was lucky to have worked for Contiki Travel later in life and was able travel to North Africa and visit Cairo and the pyramids. We were also one of the last passenger liners to pass through the Suez Canal. In 1967 the Canal was officially closed by the Egyptian government.
The passage through the Suez Canal was not as impressive as the one we had made through the Panama Canal years before. Lots of sailing boats, loose running camels, desert dunes and overall very boring. We kept looking for pyramids, however non were to be found.
We arrived at Port Said in the evening and on advise of the authorities we had to stay on board. Our passengers from Suez returned safely back on board. Of course, according to them we had missed out on quite a lot.
Sailing through the Mediterranean, Naples (Italy) became our next stop. It was still nice and warm, we went from 42 down to 35 degrees and the sea was still calm. We arrived in the morning so we were able to spend a whole day in Napoli. Here too was a market full of cheap souvenirs. It was Dick's birthday and that had to be celebrated. Mum was on the lookout for an Italian accordion. He still remembers how dad got angry over the price of ice creams - "rip off merchants" he called them.
We could see Mount Vesuvius in the distance and unfortunately I can't remember much more.
We departed Naples in the direction of Southampton, England.
Within a day or so we passed Gibraltar and sailed into the Atlantic Ocean. The weather got a lot colder and the wind was blowing a gale.
By the time we had reached the Gulf of Biscay we were heading directly into a massive hurricane. The ship went wildly up and down and swerved from side to side, with waves as high as houses. We all had to stay indoors as we were told it was life threatening outside. Many passengers got very sea sick during that part of the trip.
Safely arriving in Southampton many English passengers disembarked. We had all had enough by now and were looking forward to seeing Rotterdam.
Finally we reached our final destination, and again the whole family stood on the docks waiving us in. Look there is Aunty Annie and Uncle Toon and look at aunty such and so….
We just kept waiving. All in all we had circumnavigated the globe
.
After a few weeks dad wanted to go back, however mum was totally against this stating:
"Only once around the world… never again!"
This story has been composed with great help from my brother Dick, who seemed to have enjoyed the trip more than I did.
Below are some photos of the trip and the ship.
Our arrival at Naples and a picture of myself standing at the bow of the ship
Many thanks to ssmaritime for some of the history and pictures of the MS Auralia.